Don't give Obama More Power - Call Today!
NO to Fast Track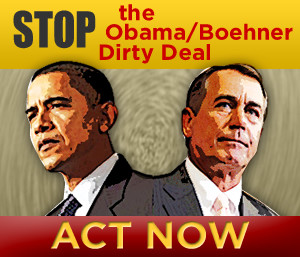 President Obama wants to ram legislation through Congress that will give him more power over the economy without oversight by Congress.

President Obama is asking for "Fast Track Trade Promotion Authority" so he can negotiate and sign an international agreement known as the Trans-Pacific Partnership, or TPP, that threatens American jobs and surrenders American sovereignty to international authority. With FAST TRACK Trade Promotion Authority, President Obama would bypass Congress and sign the TransPacific Partnership before Congress votes on it.
Your Congressman needs to oppose "Fast Track" to stop this power grab.
When the Staffer answers the phone, please give them your name and the town where you live.
Ask to speak with the Legislative Assistant on trade issues.
Let the Congressman's office know you oppose giving President Obama more power and you want your representative to vote NO on "Fast Track Trade Promotion Authority."
Then ask if you can count on your Representative to oppose
"Fast Track Trade Promotion Authority."
First, Enter Your Zip Code