Tell Congress: Protect our Farms and Food
Local Farms and Safe Food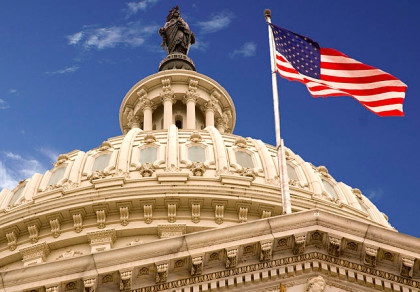 The Obama Administration is pushing an international agreement known as the Trans-Pacific Partnership, or TPP, that will hurt local agriculture and our food supply.
The TPP would outlaw Buy Local policies, and prohibit efforts to label GMOs, limit the use of growth hormones or prevent the inhumane treatment of farm animals.
TPP would lead to increased imports of unsafe food and agricultural products.
Email your representatives in Congress and urge them to oppose this threat to our farms and food supply.
Post Public Comments
Public Comments (21)
Jun 30th, 2016
Shirley M. from Fort Worth, TX signed.
Jun 12th, 2015
Tatiana c. from Fort Myers, FL signed.
Jun 12th, 2015
Tatiana c. from New York, NY signed.
May 27th, 2015
Someone from San Antonio, TX writes:
Vote for America and against Obama and his attempts to ruin our country. Don't give him even a single vote.
Apr 23rd, 2014
Bill L. from Saint Charles, MO writes:
I watched as you threw us all under the bus and voted to give away our constitutional rights to the UN to let them control our 2nd amendment rights. Now I'm urging you to support the U.S. Constitution, U.S. sovereignty and American small businesses and vote "NO" on fast track "Trade Promotion Authority", and vote "NO" on TPP. What are you going to do about this one, Claire? You'd better make up your mind quick. You're losing millions of supporters each time you vote.
Apr 22nd, 2014
Lorraine M. D. from Calverton, NY writes:
We Americans don't need China. Even their dog and cat food is poisonous. Let's put AMERICANS back to WORK!
Jan 11th, 2014
JOANN B. from Wagener, SC signed.
Jan 11th, 2014
JOANN B. from Wagener, SC signed.
Jan 11th, 2014
Someone from Wagener, SC writes:
I AM FOR THE FARM BILL, BUT THE ANMESTY BILL, NO, TIME TO CLOSE THE BORDERS ,FIRST! THIS IS A WELFARE BILL ON THE BACKS OF WHAT AMERICANS, THAT ARE LEFT WORKING! THIS IS A BILL FOR THE DEMOCRATS FOR VOTES, WE HAVE HAD IT WITH ILLEGAL ALIENS! LET THEM APPLY FOR CITZENSHIP ! WE THE PEOPLE TIRED OF BOEHNER RUNNING THE SHOW AND GIVING OBAMA EVERYTHING HE WANTS! BOEHNER NEEDS TO GO! HE IS THE REASON , WE CAN'T GET OBAMA , IMPEACHED! WE WANT HIM OUT1 WE WANT TO HEAR ALL YOU REPUBLICANS RAISE YOUR VOICES, IT'S TIME FOR THE REPUBLICAN PARTY TO LISTERN TO THE PEOPLE, NOT OBAMA! WE ARE GOING TO VOTE ALL REPUBLICANS OUT , WHO ARE STANDING UP FOR OBAMA ! ALL OF YOU TOOK AN OATH, TO UPHOLD THE CONSTITUTION, WE WANT TO RAISE YOUR VOICE AND WE WANT ALL OF YOU TO STOP HIM ANYWAY YOU CAN!WE DON'T WANT ANY FOOD FROM CHINA, FIGHT IT!
Jan 11th, 2014
Someone from Wagener, SC writes:
DON'T VOTE FOR THE ANMESTY BILL, WE DO NOT WANT IT! THIS IS FOR VOTES FOR THE DEMOCRATS AND MORE WELFARE FOR WORKING AMERICANS TO PAY FOR !CLOSE THE BORDERS! ANYONE THAT VOTES FOR THIS BILL, THE AMERICAN PEOPLE ARE GOING TO VOTE OUT! ALLOF YOU REPUBLICANS NEED TO STAND WITH THE PEOPLE! I AM WITH YOU ON THE FARM BILL, ANMESTY, NO-----------------