Daily Caller: TPP is Corporate Cronyism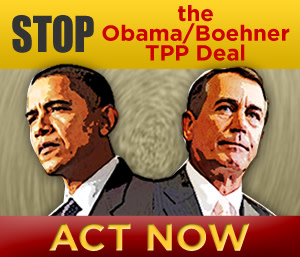 The Daily Caller

Leaked copy of secret trade treaty exposes corporate 'cronyism'
A leaked draft chapter of a secret international trade agreement reveals an aggressive push by U.S. diplomats to expand and enforce intellectual property restrictions, mainly benefiting pharmaceutical and media companies.
Wikileaks originally published a leaked chapter of the Trans-Pacific Partnership treaty (TPP) on Wednesday, the first draft of any kind made publicly available since the United States joined negotiations in 2009.
Described by the U.S. Trade Representative as "an ambitious, next-generation, Asia-Pacific trade agreement that reflects U.S. economic priorities and values," the TPP includes 12 nations on both sides of the Pacific and has been shrouded in secrecy since talks began five years ago.
"This treaty had such unprecedented secrecy because they knew that the American people would not accept radical deviations from the Constitution and choosing cronyism over the free market," said Derek Khanna, an intellectual property researcher and former Republican Study Committee staffer, in a statement to The Daily Caller News Foundation.
"Conservatives should support free trade," he added, "but this treaty is being manipulated by special interests to serve their own ends."
Although the chapter — dated August 2013 — is still in draft form, the document does appear to contain giveaways for large pharmaceutical and media corporations. The rules proposed by American negotiators would drastically curtail the ability of individuals in any signatory nation — including the United States — to tamper with existing pharmaceutical formulas or modify music, videos and other creative content.
Corporations producing intellectual property argue that any modification without their consent is theft. But critics across the political spectrum argue that overzealous copyright and intellectual property laws serve entrenched interests at the expense of innovation and growth.
"The fact that internet service providers have limited liabilities for copyright infringements have led to many instances where sites like Youtube and Facebook take down content out of fear they'll be held liable if they don't," said Maira Sutton, an analyst at the Electronic Frontier Foundation, in an interview with TheDCNF.
"There's a huge chilling effect that's occurred, even in the U.S.," she added. "If we lock ourselves into this agreement that's being negotiated with these 12 countries, they can point to this 'international standard' that's been created — in secret — and say 'Oh well, you might want to improve these laws, but we have obligations with all these countries to stick to these provisions, so we don't have the flexibility to make any reforms to the law.'"
Many of the intellectual property laws enshrined in the TPP are similar to those proposed by the ill-fated Stop Online Piracy Act (SOPA), which crashed and burned in early 2012 after public outcry.
"This has long been the preferred strategy of the content industry," said Khanna. "When they are unable to accomplish their goals in the courts or by lobbying Congress then they lobby for an international treaty. Then they go back to Congress and make them pass a new law to implement the treaty."
The Obama administration is hoping to sign the treaty by the end of the year, and several senators want to "fast-track" the document through legislative review. "If [the TPP] is given fast-track authority," Khanna warned, "Congress may never be able to seriously weigh in on this treaty."
While the public has been entirely restricted from TPP negotiations, Sutton said the text of the agreement is viewable to over 600 trade advisory committee members — corporate lawyers in the employ of interested companies.
"So while it's secret to anybody who doesn't want to sign a nondisclosure agreement and would be limited in our ability to advocate for what's going on," she remarked, "these corporations that have certain interests — and want to push forward certain interests — have ready access to it."
The Daily Caller November 14, 2013